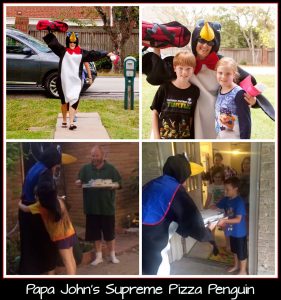 by Barbara Gruener
In a recent Forbes magazine article detailing what employers are looking for in their new hires,
the majority of the top twelve skills weren't content-related skills at all. Nope. In fact, the
majority were soft skills which are increasing becoming the new hard skills. So how do we
prepare our students now with the success skills they'll need to take their eventual place in the
work place?
Here are some of the ways that our school has partnered with the stakeholders in the
community while we're sharpening our saw at school.
Papa John's Teacher Delivery Night. Through this innovative FUNdraiser, parents serve as drivers and school staff members deliver pizza to the students and their families. It creates a win-win because the family gets dinner delivered by a favorite teacher, counselor, principal, coach, librarian, or assistant, and the school keeps twenty percent of the night's profits. Add in some curricular content by inviting students to draw a picture and write something about your school's core values, then take them to Papa john's ahead of time and ask them to glue those masterpieces onto the pizza box top so school staff can deliver your students' reflections along with the deliciousness.
Trick Or Treat for Unicef. A great way to partner with the community on Halloween is to pre-order a coin box from Unicef and have your Trick or Treaters ask for spare change instead of (or in addition to) candy as they're walking through the neighborhood. Then take the coins to a Coinstar machine to donate those funds directly to Unicef.
Halloween Candy Give-Back. If the students at your school have a surplus from Trick or Treating, consider becoming a Give-Back partner, collecting it, and sending it to Operation Gratitude for our troops. As a local option, take your students (and their extra candy!) on a field trip to thank your community helpers by sharing it with your Mail Carriers, the Police, the Firemen, etc.
Supplies For Our Soldiers. Deployed troops always appreciate hand-written thank-you notes and basic-needs supplies from home. Partner with your Rotary, who will likely be willing to pay the postage to send care packages to the servicemen and women from your community who are away from their families and could use a gratitude hug from home.
Adopt A Highway. For classes or families that want to give back to their community, you can find yourself in the service of others while strengthening your citizenship muscles by adopting a stretch of highway and picking up the litter in the ditches along the way. For our younger students, a safer option would be to go to a local park with trash bags and rubber gloves to help de-litter their playgrounds and their team-sports play spaces.
One Sight Eye Glass Collection. Partner with your local Lions Club to get an eye-glass donation bin set up in your school. Let student leaders make posters to advertise and help meet your goal to collect one pair per student. Host an Empathy Essay Contest inviting each student to write a fictional story imagining the person who wore those glasses and what their life might have been like. For fun, let your students sort the glasses by size, color, and shape; make a graph showing the results. Ask a Lions Club representative to judge the essay contest when they come to pick up the lenses.
The Gift of Music. There are so many wonderful opportunities for students to go and share their gift of music. Consider singing (or playing instruments) at a local church or community festival or fair, at a nursing home or retirement center, even at a favorite restaurant, park, or store. Ask your students where they would like to share their musical talent, then get ready to craft a plan to make it happen.
Wanted: Mystery Readers. In addition to taking it to the streets, bringing stakeholders in is a wonderful way to break down school walls. Call the Chamber of Commerce and invite their members to sign up to be a Mystery Reader at your school. Ask them to bring their favorite book as a child or have one of your class favorites ready for them to read. Encourage your students to follow-up their visit with a picture or note to express your thanks.
The more opportunities that we provide for our students to connect to the community from early on, the better prepared they'll be when they become productive citizens leading the way into our future.