You've likely heard it said that The best things in life are free, maybe even that The best things in life aren't things at all, and we wholeheartedly agree with both, which makes the season of giving kind of tricky, because how can we possibly get through the holidays with minimal spending?
The answer to low-cost and no-cost gifts lies in your willingness and ability to give (and receive!) the gift of time with a dash of talent sprinkled in.
Speaking of sprinkles, our first low-cost idea is a tray of cut-out sugar or gingerbread cookies because nothing says You Are Loved quite like being on the receiving end of a tray of kindness from our kitchens. Want to add a fun twist? Give the experience of a Frosting Fest by delivering the cut-outs undecorated. Mix up the frosting, put it in a zipper-pouch baggie, and throw in a jar of colorful sprinkles so whoever gets your cookies can easily get them frosted and sprinkled to perfection.
Don't feel like baking? No worries. How about donating the gift of your time by helping a neighbor or a friend with their holiday preparations, decorating, and/or undecorating. Maybe they've got some leaves to rake before putting up their yard art? Or in colder regions, perhaps there's some snow to be shoveled. Whatever they might need help with, you'll be adding the HO-HO-HO to their holiday cheer by lending a helping hand.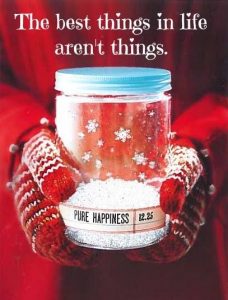 Wait, what? You don't have a lot of extra time in between Johnny's choir concert and Julie's ballet recital? No sweat. Send a thoughtful email or a kind text to someone, just because, to let them know that you're thinking about them. Tell them just how much they mean to you; a sincere compliment or kind affirmation can go a really long way toward making spirits bright.
Another no-cost idea involves picking up the phone and actually calling someone, maybe a friend or relative that you haven't spoken with in a while, to check in on them. Ask how they're doing, then give them the gift of listening, really listening to what's on their heart, their sorrows and their celebrations. It'll be like a Hallmark card, only better, because you'll be delivering the greeting with your voice and your love.
And while we're on the subject of Hallmark, how about hosting a Hallmark movie marathon? Play Hallmark Christmas Movie Bingo to add a little flair to the fun. Wait, you'd rather host a family Board Game night? Go for it. Pop some kettle corn or grab some peppermint sticks for that batch of hot chocolate you're about to make and enjoy being together around whatever medium you choose.
Some other simple ideas include donating holiday decor you no longer need to someone in need, putting an extra dollar or two into the Salvation Army bucket while you're out shopping, sending your favorite song via text or email to a friend, caroling to sing that favorite song in person, volunteering to read your favorite holiday book at school or in a nursing home, droping off a warm beverage to the crossing guard or a police officer on an outdoor duty, inviting someone on a walk through the neighborhood to look at lights with you.
Opportunities to show that caring is always in season abound; you just have to be willing to unwrap the present while you share your gifts with those around you, not only at holiday time, but all year through.
From our heart to yours, here's to a blessed holiday and a new year filled with magical memories.
By Barbara Gruener